Court finds Australian man guilty of bushfire in 2009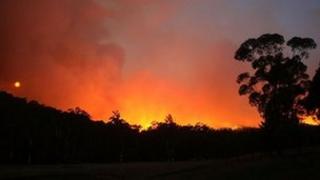 An Australian man has been convicted of deliberately starting a blaze three years ago that was part of the worst wildfire disaster in the country's history.
A Victoria Supreme Court jury found Brendan Sokaluk, 42, guilty of lighting a bushfire that killed 10 people. He will be sentenced at a later date.
He had admitted starting the fire, but said it was an accident.
The blaze was one of hundreds of fires in Victoria in February 2009.
The jury found Sokaluk guilty of 10 counts of arson causing death after he started a fire near a small town east of the state capital, Melbourne.
The fire destroyed 156 houses.
Sokaluk had told police the fires started by accident after he threw away a lit cigarette, but prosecutors said he deliberately started the fire in two points.
The bushfires that hit Victoria killed more than 170 people and destroyed more than 2,000 homes. Officials have said that some of the fires were deliberate.