Excitement builds ahead of Bangladesh cricket final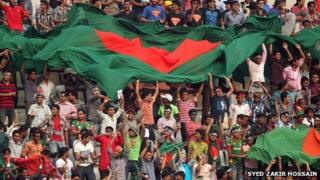 Excitement is building across Bangladesh ahead of cricket's Asia Cup final in which the host nation will be facing Pakistan.
Bangladesh has reached the final for the first time after defeating Sri Lanka - the former world champions - in an emphatic manner in Dhaka on Tuesday.
This will be the biggest game in the history of Bangladesh cricket.
Officials say that all the tickets for the nearly 25,000 capacity stadium have been sold out.
The victory against Sri Lanka on Tuesday triggered spontaneous celebrations and street parties all across Dhaka which went on into the early hours of Wednesday.
Thousands of fans beat drums, played plastic trumpets, and sang and danced in the streets after the team's victory - and the earlier win against India last week.
India lost despite Sachin Tendulkar's 100th international century in that match.
'History-shaping event'
Bangladesh has never won any major international tournament and, if the team can beat Pakistan on Thursday, it will be a historic achievement.
"We are now competing against the world's top teams. We are no longer treated as an underdog in world cricket," businessman Adib Sajed Adel said.
There is also a surge in the sale of Bangladeshi flags, which now adorn many buildings in Dhaka and especially those closer to the stadium in the Mirpur area of Dhaka.
Television channels have been running special talk shows on the team's achievements and chances of victory.
"I am very excited because Bangladesh defeated two test cricket playing nations. It's a big thing for us and I am eagerly looking forward to the final and hope we will win the Asia Cup this time," cricket fan Rubaiyat Siddique said.
Bangladeshi Cricket Board Media Manager Rabeed Imam says that if the team does win, the image of cricket in his country will be changed for ever.
"The players have performed consistently in the tournament so far and if they can do it again, this will be a history-shaping event," he said.
Officials say that Prime Minister Sheikh Hasina will be at the stadium in Dhaka on Thursday to cheer on the team.
Indeed it is likely that when the Bangladeshi players take to the field on Thursday, a large portion of this nation of 160 million people will be strongly backing them.