Arrests after blast outside Indonesian embassy in Paris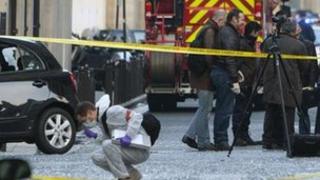 French police are questioning three suspects in connection with a bomb blast outside the Indonesian embassy in Paris.
The explosion caused damage to vehicles and windows but injured no-one.
"It's a small miracle that there were no victims," one police official told the AFP news agency.
No group has said it planted the bomb. The Indonesian government said it was deeply concerned by the blast and was working closely with French police.
"I would like the police to be allowed to carry out their investigations before we start speculating why this happened in front of our embassy and whether we are a target," Indonesian Foreign Minister Marty Natalegawa said.
French Europe 1 radio said the three suspects were being questioned by the anti-terrorism branch of the Paris Criminal Brigade.
Police say a refuse collector found the bomb in a bag under one of the embassy windows early on Wednesday.
"He looked inside the bag, opened it and thought it must be a bomb since he saw a canister attached to wires. He dropped it, left the area and called the police. That's when it exploded," Jean-Louis Fiamenghi, chief of staff to Paris police chief Michel Gaudin, told AFP.
Other reports say an embassy employee found the device at the door of the building and stepped away before it detonated.
It was not clear if there was a link between the bombing and recent attacks in southern France.