Suicide bomb 'kills five' in Pakistan's Khyber district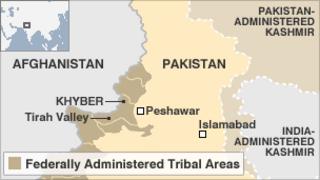 At least five people have been killed in a suicide bomb attack in a volatile tribal area of north-west Pakistan.
Friday's attack occurred in the remote Tirah valley in the Khyber tribal district, an area that has seen clashes between rival militant groups.
Most of the dead are thought to be from the Lashkar-e-Islam militant group. Its spokesman blamed the Taliban.
It comes three weeks after a similar attack on the group by Taliban militants left at least 20 dead.
"A suicide bomber blew himself up outside a Lashkar-e-Islam mosque," police spokesman Bakhtiyar Khan told the Agence France-Presse news agency.
But it is unclear exactly how many of the dead were militants. One report says three were militants and two were passers-by; another report says all those killed belonged to the Lashkar-e-Islam militant group.
None of the reports can be independently confirmed as there is no media access to the area.
Khyber has been a sanctuary for the hardline Lashkar-e-Islam, which fights other religious groups in the area, and security forces have conducted operations in the area for years.