The quest to beat floodwaters in Australia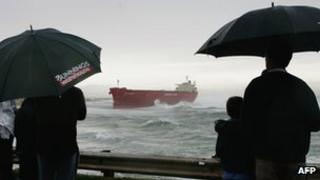 Australia's notoriously wild weather has inflicted blistering heat-waves on the west coast in recent months, while dumping unprecedented rainfall in the east.
To protect communities from natural disasters, engineers are exploring the dynamics of floodwaters using a unique 60 sq m concrete and wooden replica of a district of Newcastle, a busy port north of Sydney that is prone to serious inundation.
A team from the Water Research Laboratory at the University of New South Wales hopes the three dimensional model will help better shield homes and businesses from flash flooding, as well as improve evacuation procedures.
"The water goes barrelling down Morgan Street in Merewether…and takes a left hand turn and then travels through a residential area," explains engineer Grantley Smith, as the miniature suburb is swamped by simulated flooding.
The experiment depicts an area that researchers say is typical of other flood-affected towns and cities across Australia, and it is providing data that computer analysis cannot.
"You could appreciate that getting out and measuring flows in a real flood is difficult to do for two reasons; one is that floods can happen very quickly, so you have to be well prepared and on the spot to collect that data, but also it is very dangerous," says Mr Smith.
"So we use the physical model to give us information about flow distributions and flow velocities in a very detailed way through this representative flood plain that we have built to improve the techniques that you use to apply numerical models."
The project replicates the appalling impact of a one-in-200-year storm that pounded Newcastle in 2007, when mountainous waves forced a coal freighter, the Pasha Bulker, to run aground on a city beach.
Flood memories
Not far away, Marcello Capone was returning home as the streets started filling with water.
"It was just chaos. People were abandoning their cars," the 50-year-old teacher said.
The floodwaters rose so rapidly that Mr Capone and his two children were forced to take refuge in a garage loft. As their neighbourhood disappeared under the murky tide, they ventured out in a small, inflatable dinghy.
"We were the only boat running around the streets. It was quite amusing for a while, until we then realised there were people in distress. We helped ferry many people to the bowling club, which was elevated. It's a day I'll never forget," he said.
On 8 June 2007, thunderstorms roared through the Hunter and Central Coast regions of New South Wales, causing damage estimated at A$1.35bn (US$1.41bn; £891.54m).
In just six hours, 164mm of rain fell on Newcastle, and the emergency services were overwhelmed by thousands of calls for help.
'Terrifying experience'
Barbara Gaudry, a former Newcastle city councillor whose home was damaged in the deluge, recalls a frightening time.
"We live on a highly urbanised flood plain which is really vulnerable to flooding, and fortunately, the flooding occurred after school had finished for the day because I think there would have been the potential for a great loss of life. It was a terrifying experience for a lot of people," she said.
Almost five years on, Mrs Gaudry worries that Newcastle has still not done enough to safeguard the community.
"We're still in a state on unpreparedness," she insists. "With climate change, there are predictions of much more intense rainfall, storms and flash flooding, and so cities like Newcastle need to be prepared for that.
"We're allowing development to occur where it shouldn't, and we're not taking the precautions that we should be."
Authorities across Australia face the huge task of insulating cities and towns from the continent's capricious weather.
Officials in Newcastle say that A$40m is being spent on a "complete flood warning system", which would include refuges and stricter controls on development, but they concede that "flood proofing" the entire city is an "impossible task".
The research at the University of New South Wales is part of an overhaul of the Australian Rainfall and Runoff Guidelines, funded by the federal government.
It provides technical information for designing infrastructure to withstand extreme downpours and flooding, but is considered by engineers to be largely out of date.