Grounded New Zealand ship Rena's owners charged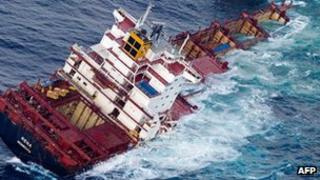 The owners of a ship which ran aground off New Zealand spilling hundreds of tonnes of fuel oil are being charged with discharging harmful substances.
The Rena ran aground on a reef near Tauranga on 5 October 2011, causing what has been called the country's worst environmental disaster.
Maritime officials filed the charge against Daina Shipping, a subsidiary of Greek shipping giant Costamare.
The charge carries a maximum fine of NZ$600,000 ($489,000, £308,000).
The company faces additional fines of NZ$10,000 for each day the offence continues.
The captain and navigating officer of the ship - both from the Philippines - have pleaded guilty to mishandling the vessel and altering ship documents after the crash.
They are due to be sentenced in May and faces up to seven years in jail.
Course changes
Aninterim reportby the New Zealand Transport Accident Investigation Commission said last month that the crew of the Rena had been trying meet a deadline to reach port.
The report said the captain and his navigating officer made several course changes as they tried to get to port by 0300 local time.
Around two hours before then, port authorities at Tauranga warned they needed to make "best speed" to avoid changes in the tides which would delay them by several hours.
The captain then agreed to change course to pass within 2km (1.25 miles) of the well-marked Astrolabe reef, rather than the recommended 4.8km.
In January, the grounded ship broke in two, spilling some 300 containers and debris into the water.
The clean-up operation is still ongoing and the stern section is now mostly submerged. Waves battering the ship have been affecting salvage work.
New Zealand's government has estimated the cost of the clean-up at NZ$130m ($108m, £68m). Most of the costs have been met by insurers.
Some of New Zealand's most pristine beaches were polluted by the fuel oil and hundreds of seabirds were killed.