The children working the streets of Karachi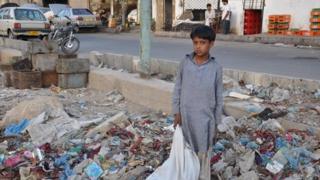 Most of Pakistan's street children live in the teeming, southern city of Karachi. The latest estimate of numbers comes from 2005 when the UN said between 1.2 and 1.5 million children lived on Pakistan's streets - but activists say their numbers are rising. The BBC's Syed Shoaib Hasan investigates.
I meet Ashiq, 10, as he is sifting through a mound of rubbish.
We are in a park in central Karachi - down the road from the mausoleum of Pakistan's founder, Mohammad Ali Jinnah.
This bright-eyed boy is willing to talk as he works - his slim young fingers clear a path through the dump.
Ashiq is a street child and a scavenger - he works as part of a group which operates in this area.
He is also part of a pattern dismaying charities and social activists here, who say that the number of children on the streets is increasing by the day.
Most of them start like Ashiq who works up to seven hours a day in the blistering heat. He stops and shows me his bag of pickings from the day.
"I collect plastic bottles," he says, "and other things I can sell on to be recycled."
It earns him about a 100 rupees a day ($1; 70p).
Ashiq admits it is hard work but he also says he is happy with life.
"I get money at the end of the day," he says, "and I use my earnings to buy biscuits."
He earnestly maintains that he doesn't take drugs - unlike many other street children. Social workers from the Azad Foundation - a charity that works with such children - confirm this.
Ashiq's eyes sparkle when I ask him what he would really like to do. "I want to play football and cricket with the other children in the park," he says softly.
"But people say we are dirty, they chase us away. It makes me feel bad."
Ashiq also says that he wants to go to school: "I want to join the army when I grow up," he says.
Ashiq has only been on the streets a few weeks now. He ran away from home after being repeatedly beaten by his father. He says he is happier here as he has enough to eat and gets whatever he wants - demands his poverty-stricken father could not fulfil.
Waiting for food
Deprivation is the biggest reason forcing parents to abandon such children or compelling children to leave home.
On the streets there is plenty to eat, as was evident when I visit Karachi's most famous Abdullah Shah Ghazi Sufi shrine.
Here restaurants financed by wealthy Pakistanis distribute free food such as chicken biryani and mutton pilau.
Most of those waiting were children - some couldn't have been older than five or six years old. Milling around with plastic bags, they jostled with grown-ups to get their share. It is a fight that they are not ready for - but have no choice because they have been thrown into it.
They appear safe here but outside on the streets great dangers await. Most of the children are picked up and recruited into gangs within a few weeks. Others are forced to become commercial sex workers.
Rana Asif - who runs the Centre for Street Children charity - puts the blame for this on the government: "Police are not providing protection to children," he says.
"But it is providing protection to criminals and abusers. They have their own interests and get financial benefit through children's activities.
"And they're getting cuts from criminal gangs. That's why police are not helping these children."
Other local charities and social activists confirm this view. They say that it is not just criminal gangs targeting these kids - jihadi groups also scour the streets looking for easy recruits.
The police themselves deny these allegations.
"There are occasional cases of some low-ranking officials being involved," a senior officer told the BBC on condition of anonymity.
"But these people are usually caught and punished."
Officially, police maintain that they don't have enough resources to provide adequate protection for the children.
There is some help out there, though - the Azad Foundation runs a centre to teach girls skills to keep them off the streets. Reading, writing and basic arithmetic are all part of the course.
Sniffing glue
Yasmin, 10, is drawing a big yellow sun when we meet her. Her father is a heroin addict and forces her to wash cars and beg on the street to fund his habit.
Some girls her age have already been forced into prostitution. There are other cruel fates awaiting these vulnerable children.
In another park a few kilometres from where Ashiq works, a group of boys huddle together. As the call for prayers rings out, they tighten their circle. It is only when I am right next to them that I see they are sniffing at dirty clothes dipped in strong glue.
Irfan, 19, is one of the gang. He tells me that he has been on the streets since he was seven.
"I steal and take drugs, " he tells me. "When I sniff glue my mind becomes numb and I am happy all the time.
"I do want to leave the streets, but I don't think that will ever happen now."
The same pessimism is shared by the majority of street children. Because their young lives are twisted by abuse and neglect, few last as long as Irfan.
Most will die before their 18th birthday.