North Korea 'not bound by US nuclear deal'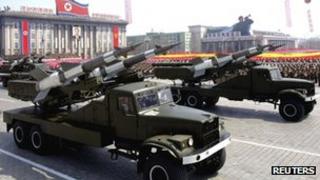 North Korea says it is no longer bound by a moratorium on missile and nuclear tests agreed with the US in February in return for food aid.
The statement on Tuesday came after the UN Security Council condemned North Korea's failed rocket launch, seen by many as a test of missile technology.
North Korea dismissed the UN criticism and said the US had failed to honour its part of the deal.
The UN nuclear watchdog said it was now "not likely" to visit North Korea.
Last month, North Korea invited nuclear inspectors to visit the country as part of the food aid agreement with the US.
But the deal fell apart shortly afterwards over Pyongyang's rocket launch plans, with the US putting food aid talks on hold.
North Korea said it aimed to put a satellite into orbit but critics said the launch violated a UN ban on missile tests.
In a strongly-worded statement carried in state media, Pyongyang rejected the UN's condemnation of its failed rocket launch and accused the US of violating the February agreement.
''We have thus become able to take necessary retaliatory measures, free from the agreement," the foreign ministry said.
"The US will be held wholly accountable for all the ensuing consequences,'' it said. ''Peace is very dear for us but the dignity of the nation and the sovereignty of the country are dearer for us."
The US has said that North Korea remains bound to UN Security Council resolutions imposed after a similar launch in 2009.
Further sanctions
On Monday, the UN Security Council ordered tighter sanctions to be imposed on North Korea and said it would take "further action" in the event of another rocket launch.
''We resolutely and totally reject the unreasonable behaviour of the UN Security Council to violate the DPRK's [North Korea's] legitimate right to launch satellites," said the North Korean statement.
On Wednesday, the Vienna-based International Atomic Energy Agency (IAEA) said it was aware of Pyongyang's statement.
''Given this announcement, we think it is not likely that the agency will dispatch a delegation to the DPRK in response to its invitation of 16 March 2012,'' Gill Tudor, a spokesperson for the IAEA said.
The UN sanctions committee now has two weeks to come up with further measures against North Korea.
The Security Council has already imposed tough sanctions on North Korea after rocket launches in 2006 and 2009.
Meanwhile South Korean reports say images from inside North Korea show a third nuclear test may be being prepared.