Indonesia's Muhammad Nazaruddin guilty of corruption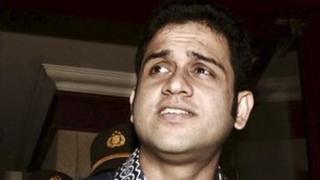 The former treasurer of Indonesia's governing Democratic Party has been convicted of corruption and sentenced to almost five years in prison.
Muhammad Nazaruddin was accused of accepting bribes in connection with tenders for the South East Asian games, hosted by Indonesia last year.
He consistently denied the charges and reports say he is considering whether to appeal against the ruling.
Nazaruddin fled Indonesia last year but was later arrested in Colombia.
He had already been dismissed by the Democratic Party.
Nazaruddin was sentenced to four years and 10 months in prison. He was also asked to pay a fine of 200m rupees (US$22,000; £13,657) or serve another four months in prison.
Prosecutors had demanded a seven-year sentence.