The movie star's wife who set up a funeral charity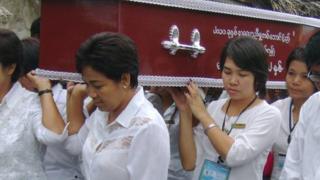 For a Burmese woman, it is perhaps an unusual career choice, and even more so for the glamorous wife of a film star, who enjoys a life of relative privilege.
But in 2001, Shwe Ze Kwet decided to start arranging funeral services for those who could not afford them.
Her husband is Kyaw Thu, who used to be one of Burma's most famous actors and is from a wealthy background.
Her charity was the first such service of its kind in the Burmese city of Rangoon, although her aunt had launched a similar charity in Mandalay. Since then the idea has mushroomed, and now charitable organisations arrange free funerals throughout the country.
In Burmese Buddhist tradition there are certain rituals to be observed and these cost money.
The body has to be prepared for burial or cremation, offerings and gifts made, and food provided to the monks who carry out these services over a period of several days.
"To be honest, when I touched a dead body for the first time I was nervous," admits Shwe Ze Kwet.
"But when you think about it, none of us will be spared, and we will all have to travel down this road some day."
Perseverance
The reaction from friends and family at the beginning was hardly encouraging, although attitudes have slowly changed.
In socially conservative Burma, preparing the dead for the afterlife is looked down upon and usually restricted to certain groups of people, who pass it down the family line.
"In the beginning, even my relatives wondered what had become of me. They asked me why I wanted to do such an unpleasant job, but I explained to them nothing is more pleasant than helping the people who need help most."
Shwe Ze Kwet persevered, and insists it is the plight of ordinary people that move and inspire her in her work.
She cites the example of a teenage boy, who was trying to raise money for his mother's funeral. A mutual acquaintance introduced him, and her charity helped arrange the necessary rites.
"He would have lost his home if we hadn't helped him. His father was already dead and he was living with his mother before she died. When I heard his story I told myself that I could not have chosen a better job."
But Shwe Ze Kwet's charitable work has not always sat well with the authorities.
During the 2007 cyclone, she and her husband were detained and interrogated for seven days after offering help to people in the affected area.
The Burmese military were very sensitive about the extent of the devastation in the cyclone-affected area, and not keen on people drawing attention to it.
She recounts that during this time, she confided to a female police officer that perhaps she ought to give up her charity work as it was not endearing her to the authorities. The officer begged her not to, saying that her own mother had died the previous year, and her charity had helped bury her.
"I was surprised to hear that, but at the same time, I realised the job I do is for everyone - whether they are your friends or foes. And that makes me happy."