Bomb leaves 10 Afghan police dead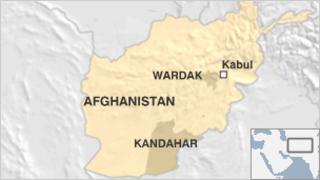 A roadside bomb in eastern Afghanistan has killed 10 members of the country's security forces, officials say.
Wardak province officials said the dead belonged to the Afghan local police - part of a government-sponsored militia.
Taleban representatives have claimed the attack late on Friday.
Elsewhere, two suspected Taliban militants were shot dead just outside the governor's office in southern Kandahar province.
The attackers had passed through security checks but pulled out their guns as guards noticed something suspicious and stopped them, Kandahar Governor Tooryalai Wesa was reported as saying.
The men were killed in a 30-minute gun battle in which a guard was also injured, a spokesman told AP news agency.
A statement from Mr Wesa's office said it was the ninth attempt to target the governor in the past three years.
Nearly two weeks ago Taliban forces launched a major assault on the capital Kabul, attacking sites including parliament, Nato HQ and foreign embassies.