Umar Patek denies key role in 2002 Bali bombings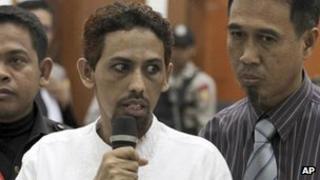 One of the alleged key figures in the 2002 Bali bombings said his part was more minor than prosecutors claim and asked for ''forgiveness'' in court.
Umar Patek admitted helping to mix chemicals for the bombs, but said he was not involved in the attacks themselves.
He is facing six charges, several of which are terrorism-related and carry the death penalty.
The Bali bombings in 2002 killed more than 200 people.
Lawyers for Umar Patek have sought to downplay his part, saying that he was involved in the preparation of the blasts but not in their execution, says the BBC's Karishma Vaswani in Jakarta.
Speaking for the first time in court, Mr Patek said he was against the Bali bombings from the start.
He added that he had ''no idea'' which bars were going to be targeted during the attacks, and only knew the bombs were intended for places that were popular with foreigners.
"I am taking this opportunity to seek forgiveness from the victims, their families and whoever suffered losses," he said.
The attacks targeted Paddy's Bar and the Sari Club in the resort of Kuta. Those killed were from 21 countries, including 88 Australians, 38 Indonesians and 28 Britons.
Mr Patek was arrested in January 2011 in the town where Osama bin Laden was later killed in a US raid. He was later extradited to Indonesia.
His trial began in February and a verdict is due on 21 June.