Australia pledges $300m to Afghanistan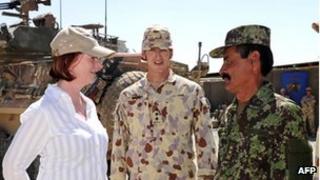 Australia says it will contribute $100m annually for three years from 2015 toward the $4bn a year cost of running Afghanistan's security forces.
Prime Minister Julia Gillard said the money would be part of international efforts to support Afghan troops when they take responsibility for security.
Australia has some 1,550 troops in Afghanistan, mostly in the south.
Last month Australia said its troops would begin pulling out this year, ahead of elections expected in 2013.
Ms Gillard said that most of the soldiers would be back in Australia by the end of 2013 - sooner than originally planned.
She said on Wednesday that while Afghanistan "will have responsibility for its own security by the end of 2014" the job would not be complete.
"To consolidate and build on the security gains of the transition strategy, the Afghan National Security Forces will need ongoing funding and training and mentoring support," she said.
"Australia has a vital national interest in supporting Afghanistan's stability and security after transition. Our commitment to Afghan National Security Force funding reflects these enduring national interests."
In addition the prime minister said that Australia would consider an "ongoing special forces presence" in Afghanistan and maintain "a substantial development assistance programme beyond 2014" in areas such as health and education.
The Australian commitment will be formalised in a long-term partnership agreement to be signed off with Afghan President Hamid Karzai, she said.
On Wednesday President Karzai signed a long-term co-operation agreement with Germany, the sixth such treaty of its kind that Afghanistan has negotiated with its western backers. Kabul has already signed similar deals with India, Britain, France, Italy and the US.
Ms Gillard said that she spoke by telephone to President Barack Obama late on Tuesday about the size of the Australian financial contribution to Afghanistan.
Australian troops are mostly based in southern Uruzgan province where they focus on training and mentoring Afghan National Army soldiers.
Canberra is the largest military contributor to the Afghan campaign outside of Nato, which plans to withdraw combat forces from Afghanistan by the end of 2014.