Bangladesh court acts in weekend 'child marriage' row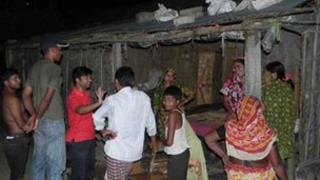 A Bangladeshi court has ordered officials to explain their failure to stop a 12-year-old girl allegedly being married to a 14-year old boy.
The High Court made its order after a leading non-governmental organisation petitioned it to act in the case.
The girl's parents say that she was 16 and that the marriage was not "binding".
Rights groups say that Bangladesh has one of the highest child marriage rates in the world.
They say that young girls are married off soon after reaching puberty and usually move in with their husbands straight away, even though it is against the law for girls to marry under the age of 18 and men under the age of 21.
It is estimated that 20% of girls become wives before their 15th birthday.
Campaigners say that with a significant part of the population living below the poverty line, the priority for many families is to get their daughter or sister married off as soon as possible to a man who could provide for her even if he is much older.
Local media reports say that the latest case took place on Friday in the south-west of the country in a village near the town of Meherpur.
The reports said the marriage took place in the presence of two elected members of a local council.
They said that the police did not take action because of resistance from the two local councillors.
"It was shocking that the marriage was held in the presence [of the] councillors. As public servants they should have stopped this because this is against the law," Abantee Nurul, a lawyer from the Ain-o-Salish Kendra rights group said.
However, speaking to the BBC the girl's father, Muhammad Azadul Islam, denied reports that his daughter was only 12 years old. He said she was married in a religious - rather than a civil - ceremony, which was not "binding".
"My daughter Mussammat Ayesha Akhter is 16 years of age. We are not educated and we are not aware of the law. She will go to her in-laws' house after two years," Mr Islam, a day labourer, said.
The High Court ordered local government officials, the police and the two councillors to report to it on 29 May to explain the background to the reported incident.
"When we heard about the wedding, we immediately informed a local government official. He told the police to look into the matter. Police came to the marriage to stop it but one of the councillors did not allow them to intervene," Tuhin Aranyo, a local journalist who was present at the wedding, told the BBC.
When contacted, one of the councillors refused to speak about his alleged role in the wedding.