Australia denies deal with Indonesia on Schapelle Corby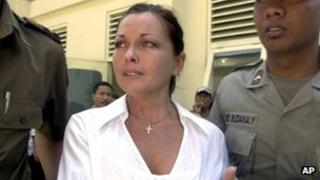 Australia says no deal was done to cut convicted drug trafficker Schapelle Corby's jail term in exchange for releasing Indonesian minors jailed for people-smuggling.
On Tuesday Corby's 20-year term, which she is serving in a Bali prison, was cut by five years.
Indonesia said the order was signed by the president earlier this month.
Australian Foreign Minister Bob Carr said it was unrelated to the release of three Indonesian youths last week.
"If there were no Schapelle Corby in a Balinese prison we'd still be releasing minors, kids on fishing boats who'd been collected through people-smuggling," he said.
"We'd be releasing them because it is plainly indecent to have, in Australian adult jails, kids from Indonesia who have been picked up on fishing boats being misused for people-smuggling.
"At no stage has the government sat down with our Indonesian counterparts and said: 'We'll release minors from our jails if you consider a clemency application for Ms Corby.'"
Indonesian Justice Minister Amir Syamsuddin said, however, there was an expectation that Australia would respond to Indonesia's move.
"It's expected that the Indonesian government's move will get a positive response so that our citizens will also get leniency and be returned to their families," Mr Syamsuddin was quoted by the Australian Associated Press as saying.
The three Indonesians were released from Albany prison in Western Australia on 18 May, because of concerns they could have been minors when arrested.
More than 20 other similar cases are to be reviewed, the attorney-general's department said last week.
Corby, 34, was convicted for drug smuggling in 2005 after 4.1kg (9lb) of marijuana was found in her bag at Denpasar airport in Bali in 2004.
The former beauty student says she is innocent. Her lawyer, Iskandar Nawing, said that Corby's mental health had deteriorated while in jail.