Brother of 'Bin Laden doctor' calls for verdict appeal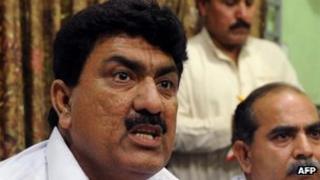 The brother of a Pakistani doctor recently sentenced to 33 years in prison for helping US intelligence has called for an appeal of the verdict.
Jamil Afridi told a news conference that his brother, Shakil, was innocent.
Dr Afridi was convicted of treason because he ran a fake vaccination programme.
Samples he took enabled American intelligence officers to confirm that Osama Bin Laden was living in a compound in Abbottabad.
It led to the US raid in which Bin Laden was killed in May 2011.
US officials have strongly criticised Dr Afridi's conviction and on Friday cut $33m (£21m) in aid to Pakistan in response to the jail term.
He was tried for treason under a tribal justice system.
Jamil Afridi and two lawyers representing his brother told the news conference in Peshawar that the tribal court's verdict - which was handed down last week and whose proceedings were never made public - was a "one-sided decision".
"All allegations against him are false. He didn't do anything against the national interest," he said.
Jamil Afridi also said that although his brother had a US visa, he did not try to flee Pakistan after the Bin Laden raid for 20 days.
"Had he been guilty, he would have escaped," he said.
Dr Afridi was prosecuted under the Frontier Crimes Regulations (FCR), the set of laws that govern Pakistan's semi-autonomous tribal region.
The FCR do not allow suspects the right to legal representation, to present material evidence or cross-examine witnesses. Verdicts are usually delivered by a government official in consultation with a council of elders, rather than by a judge.
In addition, Dr Afridi's lawyers complained that the authorities had not given them documents related to the case, including a copy of the verdict.
Correspondents say that the case puts the family in a tricky position because anti-US sentiment is strong in Pakistan, and people who are viewed as supporting Washington are sometimes targeted by militants, especially in the tribal areas.
In his first comments since last week's trial, PM Yousuf Raza Gilani called Dr Afridi's actions "wrong" but said he had the right to a fair trial "through the normal courts".
"He should be given a right to justice," Mr Gilani said in an interview with Geo TV on Monday.