India PM Manmohan Singh meets Aung San Suu Kyi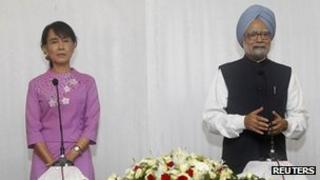 Indian Prime Minister Manmohan Singh has met opposition leader Aung San Suu Kyi, hours ahead of her first overseas visit in 24 years.
Ms Suu Kyi is due to travel to Bangkok late on Tuesday for the World Economic Forum and to meet Burmese refugees.
Mr Singh is also on a historic trip, being the first Indian prime minister to visit Burma since 1987.
On Monday, he met Burmese President Thein Sein and signed a series of deals including a $500m (£319m) credit line.
The two sides also signed deals on border area development, air services, cultural exchange and the establishment of a joint trade and investment forum.
At the meeting Mr Singh invited Ms Suu Kyi to deliver a prestigious Nehru Memorial Lecture in India, the BBC's Sanjoy Majumder reports from Rangoon.
Mr Singh said he hoped the Nobel Peace laureate would play a "major role in the political process" undertaken by the new Burmese government.
Ms Suu Kyi, whose mother was Burma's ambassador in Delhi in 1960, said she hoped to take up Mr Singh's invitation as soon as possible.
'Untapped potential'
The two nations share a 1,600km (1,000 mile) border, but relations have often been uneasy.
Delhi cold-shouldered Burma's military rulers during the 1990s, infuriating the generals by openly supporting Ms Suu Kyi.
But Mr Singh, who arrived in the Burmese capital on Sunday, has overseen a dramatic turnaround in Delhi's policy and hosted former ruler Than Shwe on a state visit in 2010.
Mr Singh is the latest in a series of leaders to visit Burma as it embarks on a process of reform under the new government.
India is now Burma's third biggest export market, behind China and Thailand.
But China still dominates oil and gas exploration in Burma and is involved in the construction of roads, pipelines and port facilities.
In a joint statement after their meeting, Mr Singh and President Thein Sein said there was ''considerable untapped potential for greater trade and urged the business community to capitalise on this potential".
The mutually agreed target was to double bilateral trade by 2015.
Analysts say India is desperate to counteract the influence of China in the region, and Mr Singh is keen to stress the close cultural and historical ties between the two countries.