New Zealand Qatar fire triplets remembered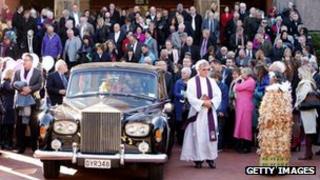 Hundreds have gathered for a memorial service for the two-year-old New Zealand triplets who died in a Qatar shopping centre blaze last month.
The toddlers were in a nursery in the Doha centre when the fire broke out killing 19 people, mostly children.
A private burial for Lillie, Jackson and Willsher Weekes will take place after the public service in New Zealand's capital Wellington.
The cause of the blaze is still being investigated.
The triplets' family delivered ''emotional tributes'' at the service, regional media reported.
The blaze at the Villaggio centre claimed the lives of 13 children, four teachers and two civil defence officials, believed to be firefighters.
The popular shopping centre - which opened in 2006 - contains a cinema, a hotel and a Venice-style theme park.
The fire was believed to have started at the centre's Gympanzee nursery, and firefighters reportedly had to break through the roof to get to trapped children when a staircase collapsed.