Pakistan court seeks action in chief justice son's case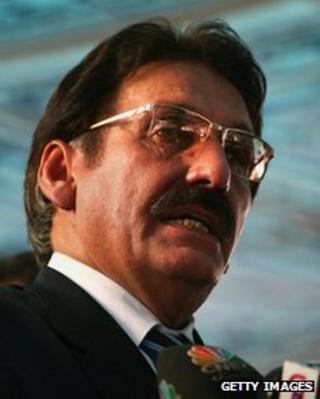 Pakistan's Supreme Court has directed the country's attorney general to take action in a high-level corruption case which is making national headlines.
Leading business tycoon Malik Riaz alleges that he paid millions of dollars in bribes to Arsalan, the son of Chief Justice Iftikhar Chaudhry.
Mr Riaz says he made the payments in order to influence Supreme Court rulings.
Both Arsalan Chaudhry and his father deny any wrongdoing.
The two-member Supreme Court bench said it was not in the court's mandate to hold criminal investigations in a case which it said involved extortion, bribery and corruption.
Separately, the Supreme Court gave Malik Riaz seven days to find a lawyer - he faces contempt of court proceedings over a press conference he gave earlier this week.
Last week Chief Justice Chaudhry recused himself from the bench hearing allegations of corruption against his son.
Mr Chaudhry has long presented himself as a bulwark against wrong-doing in a country where corruption is rife.