Bangladesh pay row shuts Ashulia garment factories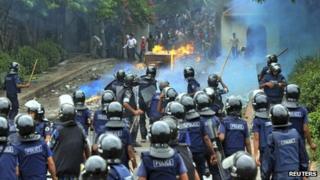 About 300 garment factories in Bangladesh have halted operations indefinitely after five days of violent protests by workers over salaries.
Garment workers last got a pay rise two years ago but union leaders say pay has not kept pace with inflation.
About 500,000 people work in the Ashulia industrial zone on the outskirts of Dhaka, making clothes for companies such as Tesco and Walmart.
Last year, garments accounted for about 80% of Bangladesh's export earnings.
"We have decided to close down more than 300 factories at Ashulia industrial area indefinitely. We can't operate in this climate of fear and lawlessness," Shafiul Islam Mohiuddin, president of the garment makers' association, told the AFP news agency.
Business leaders say garment exports are vital for Bangladesh's struggling economy.
Minimum wage
Police fired rubber bullets and tear gas to disperse the protests, witnesses said.
Dozens of police officers and protesters have been injured in the clashes.
Activists vandalised dozens of vehicles and barricaded a main road, the Reuters news agency reports.
Two years ago, the minimum wage was nearly doubled after months of violent protests, from 1,662 taka to 3,000 taka ($20-$36/£13-£23) a month.
Employees, who work 10 to 16 hours a day, six days a week, are now demanding a 50% pay increase.
Tensions rose after the abduction and murder of a union leader in April.
The BBC's South Asia analyst, Shahzeb Jillani, says there are fears that unless the country resolves its worsening trade relations, the stand-off could tarnish the Bangladeshi brand in the long run.