Burma unrest: Death sentences in Rakhine murder case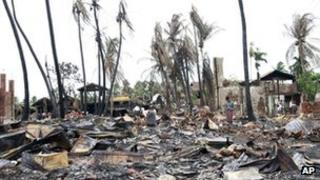 Two men have been sentenced to death in a case that sparked violent clashes between Muslims and Buddhists in Burma, lawyers have told the BBC.
The men were convicted of raping and killing a Buddhist woman in Rakhine state last month.
A third suspect who died in jail was given a posthumous conviction.
At least 50 people died in revenge attacks and riots that followed the incident, and thousands have been displaced.
Analysts say it is unlikely that the men will be put to death, as no prisoners have been executed in Burma since before 1988.
Following the woman's murder, a bus carrying Muslims was attacked and 10 people were killed, prompting more unrest in several towns and villages in Rakhine.
The violence has led to hundreds of Muslim refugees from the Rohingya minority trying to enter neighbouring Bangladesh by boat.
But they have been turned away by coast guards and border security, with Bangladeshi authorities saying on Monday that another group of about 150 had been denied entry.
President Thein Sein declared a state of emergency in Rakhine on 10 June.
Activists have criticised the state of emergency, saying it hands control of Rakhine state to the military.
The pressure group Human Rights Watch says the Burmese army has a history of brutality against both Buddhists and Muslims.
Burmese opposition leader Aung San Suu Kyi has warned that the strife would continue without "the rule of law".