Militants kill Afghan policemen at Kandahar checkpoint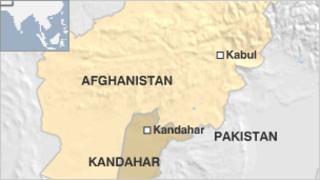 At least three policemen have been killed and six injured after militants wearing police uniforms attacked a checkpoint in the Afghan city of Kandahar, officials say.
Officials said the gun battle lasted for about an hour.
The attack comes one day after a Nato soldier was shot dead in Kandahar by attackers in Afghan police uniforms.
The Taliban say they carried out Tuesday's attack.
Militants frequently launch attacks against government and military targets from the southern province of Kandahar, which they regard as their spiritual homeland.
Provincial police chief General Abdul Raziq told the AFP news agency that all the attackers were killed in the gun battle during the checkpoint attack.
The Afghan government has also released details of the killing of eight civilians, including women and children, that took place in neighbouring Helmand province on Monday.
Their small pick-up truck hit a roadside bomb. Five people were injured.
Roadside bombs, or improvised explosives devices, are used widely by the Taliban and are responsible for most of the deaths in 10 years of conflict in Afghanistan.
In a separate incident on Monday, officials say that insurgents were foiled as they tried to storm a joint Afghan-Nato base in the Shah Wali Kot district of Kandahar.
Nato said that the attackers succeeded in breaching the outer perimeter of the base but no coalition soldiers were killed in the incident.