Indonesia to work with Australia on people-smuggling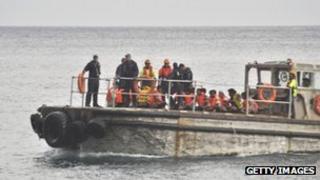 Indonesia and Australia have pledged increased co-operation on people smuggling, following the sinking of two asylum-seeker boats last month.
Speaking after meeting PM Julia Gillard in Darwin, President Susilo Bambang Yudhoyono said Indonesia was a victim of people smuggling too.
But he also called for the release of underage Indonesian boat crew currently detained in Australia.
Trade and regional security are also on the agenda for the two-day meeting.
This is the second annual high-level meeting between Australia and Indonesia.
"In the field of preventing or combating people-smuggling and also human trafficking, we have agreed to enhance greater co-operation," Mr Yudhoyono said at a joint media conference.
''We hope that we can prevent, as far as possible, the act of people-smuggling in our region."
Ms Gillard said she welcomed the ''strong co-operation'' with Indonesia and said the talks had been ''broad-ranging and productive'', Australian media reported.
The two leaders said they had agreed to work together to improve their extradition agreement and joint reaction to incidents involving asylum-seeker boats.
Australia would explore an exchange program with Indonesia of search and rescue experts, said Ms Gillard. The two countries' maritime agencies will also coordinate efforts to boost their communication with boats in future incidents.
But the Indonesian leader also urged Australia to free 54 underage crew members currently being detained as people-smugglers.
Boats sinking
People-smuggling rose to the top of the agenda after two asylum-seeker boats sank in waters between the two countries last month.
One boat sank off Christmas Island on 21 June. A total of 110 people were rescued and 17 bodies were found, but it was believed to have been carrying up to 200 people.
At least four people are believed to have died a week later when another boat sank in the area.
Christmas Island, which lies off Australia's north-west coast, is closer to Indonesia than Australia. It is targeted by asylum-seekers hoping to get to Australia who usually sail on over-crowded, poorly-maintained boats.
Australian authorities want to find ways of deterring people from making the dangerous journey but the two main parties are deadlocked on how to tackle the issue.
Australia has also said it will contribute A$1bn ($1bn, £640m) to a contingency loan programme for Indonesia.
The two countries have already signed a memorandum of understanding (MOU) to increase defence co-operation. Indonesia will be receiving four Hercules planes for disaster relief as part of the deal.