Bangladesh urged to stop mass trials of 2009 mutineers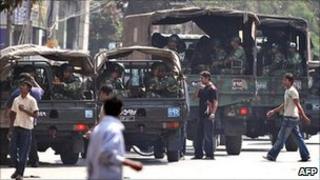 Bangladesh should stop "unfair and flawed" mass trials of paramilitary border guards charged with mutiny over the 2009 killings of 74 people, Human Rights Watch (HRW) has said.
A HRW report says that suspects have been subjected to widespread abuse, torture and deaths in custody.
It says that the mass trials of nearly 6,000 suspects raise serious concerns.
A Bangladeshi paramilitary spokesman described the HRW report as baseless.
Human rights groups have repeatedly criticised the authorities for the deaths of about 50 mutiny suspects in custody, which the government has said is because of heart attacks or other natural causes.
HRW's The Fear Never Leaves Me report says that Bangladesh's "notorious" Rapid Action Battalion (RAB) has allegedly been involved in many of the abuses.
"Those responsible for the horrific violence that left 74 dead should be brought to justice, but not with torture and unfair trials," HRW Asia Director Brad Adams said.
"The government's initial response to the mutiny was proportionate and saved lives by refusing army demands to use overwhelming force in a heavily populated area.
"But since then it has essentially given a green light to the security forces to exact revenge through physical abuse and mass trials."
Mr Adams said that the government "has done nothing to end the culture of abuse and impunity among its security forces".
HRW has called on the Bangladeshi authorities to establish an "independent investigative and prosecutorial task force with sufficient expertise, authority and resources" to investigate and prosecute those guilty of human rights abuses after the mutiny.
Routine torture
However RAB spokesman M Sohail told the BBC's Anbarasan Ethirajan in Dhaka that report was "fake and baseless".
Commander Sohail accused the organisation of "spreading unnecessary allegations" against the law enforcement agencies of his country.
"We should strongly condemn this report," he said.
The mutiny over pay and conditions erupted at the Bangladeshi Rifles (BDR) headquarters in the capital, Dhaka, and lasted 33 hours.
Other BDR units followed suit across Bangladesh, in the worst armed forces mutiny in the country's history. Among the dead were at least 57 senior army officers, and their bodies were dumped in sewers or shallow graves.