Philippine, Macau and Australia tycoons to build casino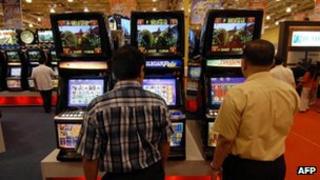 Macau gambling magnate Lawrence Ho and Australian tycoon James Packer are partnering Henry Sy, the richest man in the Philippines, to build a $1bn (£650m) casino in Manila.
SM Investments Corporation, controlled by Mr Sy's family, said that its affiliate Belle Corp had signed a deal with Macau's Melco Crown Entertainment.
Melco is co-owned by Mr Ho and Mr Packer.
The project will be built at a site on Manila Bay called Entertainment City.
The partners signed a memorandum of agreement and will ''enter into implementing and definitive agreements within the next two months'', said a statement by SM Investments Corporation.
The development in Manila is Melco's first project outside Macau, where it runs two casinos and is currently building a third.
The company said it is looking at opportunities across Asia as the region is expected to be the fastest growing gaming region in the world.
''The Philippines is a popular tourist destination in Southeast Asia and is closely located to a range of important tourism markets, including South Korea, Taiwan, Japan and China,'' Melco Crown said in a statement .
Belle Corp has obtained a provisional licence from the Philippines' regulatory body, said an Associated Press report.
The body will grant a regular licence once certain conditions have been met, the report added.
Licences have also been granted to Malaysia's Genting Group, the Bloomberry Resorts Corp., and another casino backed by Japanese gaming tycoon Kazuo Okada, AFP said.
The Philippines government is aiming to rival casinos in Las Vegas in the United States and Singapore when the huge casino complex in Manila Bay is completed in 2016.
The first large-scale casino complex in the Philippines, Resorts World Manila, opened in 2010.