'Seven die' as gunmen attack Pakistan army camp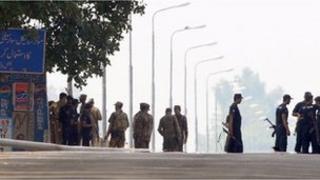 Gunmen have attacked an army camp in Pakistan, killing at least seven security personnel and injuring five, officials say.
The attack happened at a site along the Chenab river in the Gujrat district of central Punjab province.
The Pakistani Taliban have claimed responsibility for the attack.
The Tehreek-e-Taliban spokesman told BBC Urdu that its Punjab Wing was responsible and would continue to target the army wherever it could.
The camp had been set up to search for the body of an army pilot whose helicopter crashed in May.
Security targets in Pakistan's north-west are frequently hit, but analysts say attacks in this area are unusual.
Rally
"We had information that some suspect people were in this area, probably on a [reconnaissance] mission," an intelligence official told BBC Urdu.
A senior security official told the AFP news agency that the exact number of attackers was not known but "they came by motorbike and sprayed bullets on the troops from a bridge".
The attack took place hours after a nearby rally of hardline jihadist groups protesting against Pakistan's reopening of Nato supply routes to Afghanistan.
Interior Minister Rehman Malik said that some "banned" militants were part of the rally organised by the Defence Council of Pakistan, an umbrella organisation comprising several hardline groups.
Officials say they are investigating whether the two events were linked.