Burma's Aung San Suu Kyi makes parliamentary debut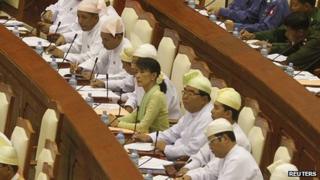 Opposition leader Aung San Suu Kyi has started her first day as an elected politician in Burma's parliament.
She is one of 43 members of the National League for Democracy (NLD) in parliament after historic by-elections in April.
The vote took place amid a series of political reforms initiated by the military-backed government.
Her debut in parliament was delayed from last week, to allow her to recover from a busy European tour.
"I will try my best for the country," Ms Suu Kyi told reporters when she arrived at the lower house in Naypyidaw.
Ms Suu Kyi recently returned to Burma after a 17-day tour of Europe during which she received her Nobel Peace Prize, 21 years after it was awarded.
While on her European tour, Ms Suu Kyi praised recent progress but also warned against ''reckless optimism'' over reforms in the country.
Over the weekend authorities released a group of student leaders after they were arrested on Friday.
They had gathered in Rangoon to mark the anniversary of the suppression of a student movement 50 years ago.