Former Maldives President Mohamed Nasheed is charged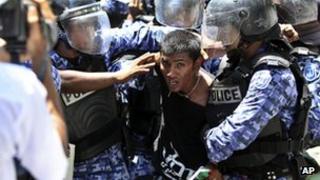 Former Maldives President Mohamed Nasheed has been charged with illegally ordering the arrest of a senior judge.
The charges against Mr Nasheed were filed on Sunday.
He was the country's first democratically elected leader but was forced to resign in February and replaced by his deputy, Mohamed Waheed.
Mr Nasheed says he was the victim of a coup but this is denied by the security forces and President Waheed who says elections will be held in July 2013.
Mr Nasheed ordered the army in January to arrest the chief judge of the criminal court, accusing him of political bias and corruption.
But the detention the judge provoked weeks of unrest, culminating in fomer President Nasheed's resignation.
The BBC's Alastair Leithead in the capital Male says that the country is becoming increasingly tense, with protesters battling the police every night for more than a week to demand new elections.
Police have used batons and pepper spray to break up the demonstrations which are led by Mr Nasheed's Maldivian Democratic Party (MDP).
The MDP have accused police of using "brutal force" to break up their rallies, injuring several people and arresting hundreds of party members.
But police spokesman Abdulla Nawaz told the BBC that his officers had used minimal force and he also denied allegations that rubber bullets were being used against the protesters.