Media reaction: Power play behind North Korea move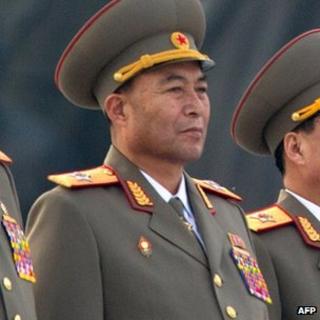 The removal of North Korea's army chief, General Ri Yong-ho, has prompted media commentators to ponder whether the decision was the result of a power struggle within the top echelons of the country's government.
Given the often arcane nature of developments in North Korea, many media outlets chose to ask academics and analysts to interpret Mr Ri's dismissal.
Even though illness was cited in official reports, most commentators suspected that political factors were behind the move.
The Korea Times, an English-language newspaper published in Seoul, on 16 July pointed out that "illness" has previously been used in the North's media to denote dismissal for corruption or insubordination.
The paper said Ri Yong-ho appeared "relatively healthy" in recent photographs, which suggested that he was removed as a result of a power struggle within the North Korean elite.
The Korea Times quoted Cheong Seong-chang, a senior fellow at the Sejong Institute, as saying that "this was a warning to the military that anyone refusing to follow guidance and instructions from the party could be removed from power at any moment no matter how close they are to Kim Jong-un."
"The most plausible scenario is that he was purged after being defeated in a power struggle in the North's inner circle," The Korea Times said in a separate article on 16 July.
"Unusualness"
The government in Seoul also sensed "unusualness" in the move, South Korean news agency Yonhap said on 16 July.
It quoted an unnamed Unification Ministry official as saying: "Our records show that the North usually gives a grace period before dismissing an ailing official."
Also, it was unusual that the important personnel decision was made in a Sunday meeting and made public at daybreak the very next day, Yonhap said.
It also interviewed Chang Yong-suk, an analyst at the Institute for Peace and Unification Studies at Seoul National University.
He suggested that Mr Ri could have been dismissed "on account of Kim Jong-un's unsatisfactory military grip or as a result of a power struggle".
Hankyoreh, a centre-left daily in South Korea, on 17 July agreed Mr Ri's dismissal was unusual in more than one way.
"In the past, there haven't been many cases of Pyongyang immediately announcing the removal of one of its main figures," the paper said.
"Another surprise is how quickly the measure came after Mr Ri said he was in ill health."
"Also unprecedented was the organising of a politburo meeting on a Sunday, or the handling of personnel matters by that organisation. So too was the use of the somewhat extreme phrase 'relieved of all duties'," argued the Hankyoreh newspaper.
In Japan, the Kyodo news agency on 16 July quoted Atsuhito Isozaki, an assistant professor of North Korean politics at Keio University in Tokyo, as suggesting it was too early to draw any definite conclusions.
"We often see power struggles among senior officials during the power transition period. But it's too early to determine if the country is having a power struggle only with the latest report," Mr Isozaki said.
"Preparing for reforms"
Beijing-based Global Times, an English-language newspaper, on 16 July carried remarks by Zhang Liangui, a professor on Korean issues at the Party School of the Central Committee of the Communist Party of China. He argued that Mr Ri's removal was the result of a power struggle and may herald the start of more changes at the top.
"Kim Jong-un has been trying to improve relations with the US and neighbouring countries since he took over the leadership, but some incoherent policies in North Korea this year show that Kim holds different opinions on how to handle the country's domestic and foreign affairs," Prof Zhang said.
Su Hao, director of the Asia-Pacific Research Centre at China Foreign Affairs University, was quoted by Global Times as saying that Mr Ri's dismissal may be a sign of reforms in North Korea.
Kim Jong-un "is preparing for reforms in the political and economic sphere by clearing obstacles from the military power structure, so that high-level officials benefiting from the traditional army-first policy could not stop him", the paper said, quoting Su Hao.
"Thrown to the wolves"
The Daily NK, a Seoul-based website, on 16 July listed several possible reasons why Ri Yong-ho was dismissed.
"When Kim Jong-il was alive, Ri was at the core of laying the groundwork for the succession, so for him to be removed from every position makes it highly likely that some kind of feud has been going on in the regime," said Kim Kwang-in of the North Korea Strategy Centre.
The Daily NK also suggested that Mr Ri may have been "sacrificed" to block off future efforts by military hardliners to stop reformists, or that he had already expressed his objection to reform and was removed as a result.
"The most famous military face in the regime has been thrown to the wolves as a scapegoat for Kim Jong-un's initial errors, and now the regime is showing that it intends to try reform and opening," Kim Yeon-su of National Defence University said, according to The Daily NK.
Still, poor health should not be entirely discounted, the website said. "Inside North Korea it is common knowledge that Kim's hearing was failing him so he needed to be transferred out," The Daily NK said.
Unity or split?
Further afield, in Russia, which traditionally has strong links with Pyongyang, views differed on whether Ri Yong-ho could have been removed due to ill health.
Aleksandr Zhebin, the head of the Korean Studies Centre at the Russian Academy of Sciences' Eastern Studies Institute, was sceptical.
"He is 69. There are about 20 people in the country's leadership who are older than him," he told Nezavisimaya Gazeta newspaper. "Many of them fell ill but formally kept their jobs."
Kommersant, an influential daily in Russia, reported an opposing point of view.
"As simple as it may be, Ri Yong-ho could have been dismissed due to bad health," said Aleksandr Vorontsov, the head of the Korea and Mongolia department of the Eastern Studies Institute.
According to Kommersant, Mr Vorontsov believes that North Korea's leaders are as united as ever.
"The West's actions in the past few years have united the top officials around the young North Korean leader," Mr Vorontsov said.
"For several years, the USA portrayed Libyan dictator Mu'ammar al-Qadhafi as a good example after he gave up weapons of mass destruction and became the world's friend, but then he had his neck wrung."
BBC Monitoringselects and translates news from radio, television, press, news agencies and the internet from 150 countries in more than 70 languages. It is based in Caversham, UK, and has several bureaux abroad. For more reports from BBC Monitoring,click here.