South Korea's Lee Myung-bak in national apology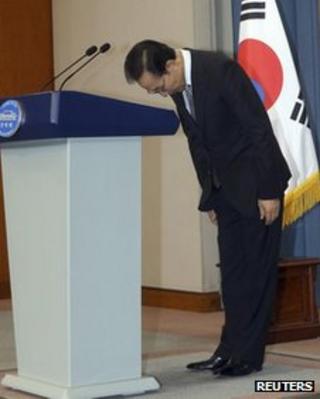 South Korean President Lee Myung-bak has apologised to the nation over corruption investigations involving his brother and former aides.
"I bow my head and apologise for causing the public concern as a result of these incidents," he said in a short address on television.
His brother, Lee Sang-deuk, was detained by police on corruption charges earlier this month.
Mr Lee's five-year presidential term comes to an end in February.
Lee Sang-deuk, a former lawmaker for six terms and reportedly the president's political mentor, faces allegations of taking 600m won (£338,200; $525,000) in bribes from two savings banks to help them avoid an audit.
As the elder brother to South Korea's head of state, his arrest and possible trial could affect support for the ruling party in December's presidential elections, says the BBC's Lucy Williamson in Seoul.
There has been widespread anger over the savings bank scandal. Since the start of this year, South Korean regulators have closed 20 of the nation's weakest banks.
Many of them were so-called savings banks, which were created following the 1997 Asian financial crisis. There used to be more than 100 of these small regional lenders, which were either private or rural co-operatives.
However, a rising number of mortgage defaults in the country's lacklustre real-estate market following the 2008 financial crisis led many of these lenders to face capital and liquidity shortages.
In January 2011, the financial regulator began suspending operations of banks that did not have enough money.
Two of the troubled savings banks were Solomon Savings Bank, which was shut two months ago, and Mirae Savings Bank. Both allegedly made payments to the elder Mr Lee.
But prosecutors investigating the savings bank scandal allege the illegal activity goes much wider, and have indicted nearly 200 people, including politicians, lobbyists and bankers.