Australia 'breached rights' of Indonesian minors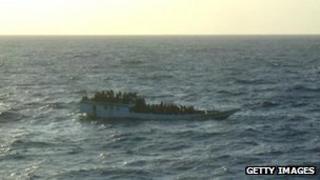 Australia has breached the rights of Indonesian children who arrived as crew on people-smuggling boats and were jailed as adults, a report finds.
Dozens of Indonesian crew were jailed between 2008-2011 even if they said they were under 18, says the Australian Human Rights Commission report.
The report criticised the use of wrist x-rays to determine their ages, saying the process had been discredited.
Australia has since changed its approach.
The study states : "We know now that many young Indonesians assessed to be adults on the basis of wrist x-ray analysis were in fact children at the time of their apprehension, or are very likely to have been children at that time."
The wrist-x-ray method of profiling ages, developed in the 1950s, had now been "discredited", Australian Human Rights Commissioner Catherine Branson said.
"There is a cohort of individuals whose human rights have not been respected in Australia," she said. "These are all breaches of the convention on the rights of the child."
The report also said there was a reluctance on the part of officials to rely on other efforts - like interviews and documentary evidence from Indonesia - in age determination proceedings.
"This led to the prolonged detention of some individuals likely to have been children in immigration detention facilities and, in many cases, thereafter in adult correctional facilities," the study says.
Attorney-General Nicola Roxon said a new system was now in place for assessing whether crew members were under 18.
"Minors do not belong in adult jails, which is why the government significantly changed age-determination policy last year," she said.