Residents priced out of Australia's powerhouse port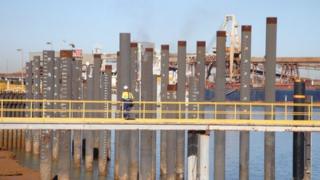 A small grey bungalow sits on a quiet street in Port Hedland. It has three bedrooms, one bathroom and a gravel front yard.
The house rents for A$3,000 ($3,097; £1,957) a week - and it is by no means the most expensive property in town. Four-bed houses cost more and if you want to buy, you'll need a million.
Average rents in Port Hedland are among the highest in Australia, rivalling Sydney's most affluent suburbs.
Home to around 15,000, the town lies in the Pilbara, the resource-rich region in Western Australia that is driving the nation's economy.
Every day cargo trains up to 2km long power their way north from remote mines around Newman and Tom Price, hauling cars full of iron ore bound for Asia.
Mining giant BHP Billiton ships out of Port Hedland and Rio Tinto out of ports near Karratha, just over 100 miles (160km) to the south.
Demand has soared in recent years. Port Hedland is now the world's biggest bulk export port - in June 2012 it shipped a million tonnes of iron ore on a single tide.
This increased demand has brought more workers to the region. Every weekday, eight or more flights arrive in Port Hedland from Perth carrying fly-in, fly-out (Fifo) workers.
Between 4,000 and 6,000 Fifos, mostly male, are operating port and associated facilities and building new ones in the town. They work a fixed number of shifts, then fly home.
The influx has taken a toll. Resource companies need housing for the new staff. Purpose-built camps house many but not all Fifo workers, and staff based permanently in Port Hedland need proper homes - so the local housing market has rocketed.
Local estate agent Jan Ford says companies pack several workers into one house. One March afternoon, group viewings were held for a four-bedroom house offered at A$2,500 a week.
"There were 11 applications on that property and the companies who needed it most to support their contracts were outbidding each other. It rented for A$3,000 a week - so in two hours, rents jumped A$500 a week."
Local residents simply cannot compete. Some have left, including people employed in the resources sector who have switched to Fifo working because they cannot afford to live in Port Hedland.
"It's been very saddening to see people who are born and bred here - who have no other place but here - they can't call it home anymore," said Mayor Kelly Howlett.
'No housing'
The housing spike has a knock-on effect on the local economy - commercial property prices have also risen. There were people who wanted to start restaurants or cafes but simply could not afford it, Ms Howlett said.
Local businesses are also struggling to keep staff because of both the housing issue and higher salaries in resources. "You can't even keep bad staff now," she jokes.
The town has tons of tourism potential - the landscape is striking, the huge trains and tankers impressive. Turtles lay eggs on the beach and whales pass off the coast.
But in July tours of the port facilities were halted because the guide had nowhere to stay and the accommodation crunch means there is nowhere affordable for tourists.
The neediest members of the community, about 20% of whom are indigenous, are also being affected.
Bob Neville, who heads the Pilbara Association of Non-Governmental Organisations, runs facilities including a sober-up centre and a homeless support service.
He says local people are being forced to wait up to six years for council housing because stock has been sold off to companies. Some people have nowhere to go or live in very cramped conditions, he says, which can exacerbate drug and alcohol abuse.
"We've just been given funding to deliver a drug and alcohol support programme through employing two councillors," he says. "But I had to ring them up and say 'Fine, but I've got no housing'. I can't advertise until I've got somewhere to house them."
'Heated discussion'
All this - plus irritants like the introduction of parking fees at the airport, long waits at the supermarket check-out because of staff shortages and a less "family-friendly" feel in places full of young resource workers - has fostered some resentment.
Local taxes, or rates, have emerged as an issue. Local government has to provide services - pavements, parks, libraries, roads - but the number of people paying does not match the number of users, because the Fifo workers are transient.
"There is a lot of heated and emotive discussion - people want to pay their fair share and if they feel that some sectors of the community aren't contributing that much, it's important that we balance that out," says Mayor Howlett.
The resource companies are already hefty investors in the town. Julius Matthys, BHP Billiton's vice-president of external affairs, says it runs into the tens of millions, pointing to a new recreation centre and multiple infrastructure projects.
BHP money helps ensure local children are not "disadvantaged by geography", says John Burke, principal of the high school, citing study trips to partner schools in Perth, as well as an A$11.5m site redevelopment partly funded by BHP.
Tony Friday, chief executive of the Pilbara Regional Council, says some mining companies contribute "beyond what is reasonably expected" to host communities in the region.
There is no formal process by which that occurs, however, something he wants an ongoing parliamentary inquiry on Fifo to address.
But he says the key problem is not the companies - it is the supply of land for development.
It seems odd - Port Hedland is surrounded by land. Flying in, the train line is the only feature on an empty orange landscape. But Mr Friday says negotiating with different stakeholders and service-providers takes time.
A concerted effort is needed at all levels of government, he says, to get land released and made "shovel-ready" for new houses, so the people who form the fabric of the town are not forced out.
"Given the very significant return that the Australian economy is getting from the region and the benefits that a large portion of the population are receiving, in my view this should be a whole-of-Australia problem," he says.
Kelly Howlett says plans are in train that should help, such as a project to develop 2,000 residential blocks. Money from Royalties for Regions - putting funds back into areas generating growth - is also helping.
But port operations are expanding, meaning more workers. And it will take time for change to be felt.
"The growth of the resource industry and the extreme nature of that growth - it wasn't just the town of Port Hedland, it caught the world out," Ms Howlett says.
"With those efforts that are helping collaboratively things will get better - it's not going to happen tomorrow unfortunately but it is going to happen into the future."
Right now, though, she says: "People are doing it really tough."