Zardari and Karzai 'agree' Afghan border shelling probe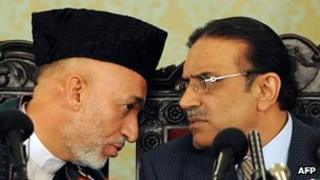 Afghan President Hamid Karzai has said that he and his Pakistani counterpart, Asif Ali Zardari, have agreed to send a joint military delegation to examine recent shelling across their border.
The two leaders met on Tuesday in Saudi Arabia on the sidelines of a meeting of Islamic nations.
Cross-border shelling and militant incursions are a source of ongoing tension between the two countries.
Each blames the other for failing to do more to curb the violence.
There was heavy fighting on Tuesday between Afghan and Pakistani forces in the eastern Afghan province of Kunar, in which one Afghan border policeman was killed and five were injured in what Afghanistan said was an attack from the Pakistani side.
The Afghan authorities sent hundreds of troops to the area.
Afghan officials have in the past accused Pakistan's military of firing the rockets across the border - a claim Pakistan denies.
Correspondents say that cross-border violence has become a highly sensitive issue in Afghanistan, where many are wary of Pakistan's historic ties to the Taliban.
Islamabad says that the violence is being carried out by Pakistani Taliban fighters sheltering in Afghanistan, who have infiltrated the border to resume attacks on its security forces.
President Karzai asked Pakistan "to immediately end" cross-border attacks. He warned that if they continued, they would adversely affect "Afghanistan's friendship with Pakistan".
"Their continuation would not be good for Pakistan," a statement released by the president said.
It went on to say that President Zardari had agreed to assign a joint military delegation to visit the border and investigate the shelling.
A statement from the Pakistani president said that the two leaders "were unanimous in the view that all groups should shun violence and join the peace process in Afghanistan, for the peace and stability of the region".