Pakistan suicide bomb kills five in Quetta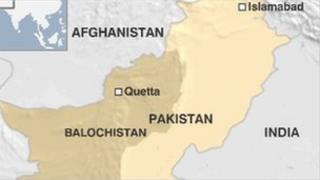 Five security personnel have been killed in a suicide bombing at a checkpoint in Pakistan's volatile south west, officials say.
The blast took place early on Saturday after officials stopped a car at a checkpoint near Quetta, a spokesman for the paramilitary Frontier Corps said.
An eyewitness told local media the explosion shook nearby buildings.
FC spokesman Murtaza Baig said three FC troops and two intelligence officials were killed, according to AFP.
He said those killed had "sacrificed their lives to foil a major terror attack", the news agency reports.
Quetta is the capital of the south-western province of Balochistan, where a separatist insurgency is being waged by ethnic Baloch militants demanding more autonomy and a greater share of natural resources.
Afghan and Western officials have in the past said parts of the Taliban leadership are based in Quetta - a claim Pakistan denies.