Australia retrial for US surgeon Jayant Patel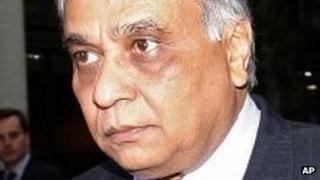 Australia's high court has granted a retrial for US doctor Jayant Patel, who was jailed in 2010 for manslaughter.
The court ruled that a miscarriage of justice took place during the trial of the Indian-born US citizen and quashed his convictions.
He was convicted of the manslaughter of three patients who died after he operated on them at a Queensland hospital where he worked from 2003-05.
Dubbed ''Doctor Death'' by local media, he had been jailed for seven years.
Mr Patel was arrested in the US in 2008 and extradited to Australia to stand trial.
'Prejudicial effect'
The high court found that a miscarriage of justice occurred when the prosecution ''radically changed its case'' on the 43rd day of Mr Patel's 58-day trial.
Until then prosecutors had worked to establish a case that Mr Patel "had been grossly negligent in all aspects of his treatment of the patients".
But, said the judgement, as the trial proceeded it became clear that the operations had been performed "competently enough'' - at which point the prosecution then focused its case on Mr Patel's decision to perform the operations.
"Much of the evidence about the surgery and post-operative care was prejudicial to the appellant but no longer relevant on the prosecution's revised case," it said.
"The prejudicial effect on the jury was not overcome," it said, leading to a miscarriage of justice.
The court also ordered that Mr Patel's additional conviction for grievous bodily harm against a fourth patient be set aside.
Mr Patel had pleaded not guilty to the manslaughter of Gerry Kemps, James Phillips, and Mervyn Morris, and causing grievous bodily harm to Ian Vowles.
After his conviction, Mr Patel appealed to the Queensland court of appeal but lost.