Sri Lankan Paralympians face resources challenge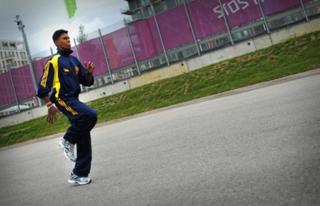 Sri Lanka is sending a seven-member team to compete in the Paralympic Games in London. They are determined to win the first ever Paralympic medal for the country, but say their effort is being hampered by a lack of official support.
"The only equipment I have for training is my walking stick," says the team's captain PA Lal Pushpakumara, who lost his left leg after he stepped on a land mine planted by Tamil Tiger rebels in 2008.
He has served in the army sports unit ever since and is the world's number four ranked high jumper in the F44 category, one of the groupings used at the Paralympics to organise events according to competitors' levels and types of disability.
Lal Pushpakumara first competed in the Beijing 2008 Games and, though he is determined to win a medal in London, he says he does not have proper facilities, equipment or funding in place.
"We don't ask for special facilities; what we are asking for is proper equipment to train for major sports events," he says.
His is a common story even for many non-disabled sports men and women in Sri Lanka, except for cricket, the most popular sport in the island nation. But cricket does not feature in the Paralympics.
Soldier UDP Pradeep Sanjaya is currently the world's fifth-ranked player in arm paralysis T46 in the 400m. He also competes in the 200m.
"I have to buy all the equipment, shoes and clothes, everything from my own salary. I did not get any sponsorship for my training," he says.
"If we are get proper equipment and sponsorship, I'm sure we would do much better," Pradeep Sanjaya told BBC Sinhala service.
Blade Runner admiration
All the Sri Lankan team mates are full of praise for South Africa's sprint sensation, Oscar Pistorius.
"I myself have won several provincial tournaments against able bodied athletes," says Lal Pushpakumara.
Nicknamed the Blade Runner, Pistorius created a new world record as the first disabled man to compete in an Olympics, running on specially designed prosthetic legs.
"I think the South African athlete is a great example for all of us. He is properly trained and looked after by the South African state. If we also get proper equipment and support, I'm sure we will also be able to compete in the Olympics," Pushapukara added.
All five soldiers representing Sri Lanka expressed their gratitude to Brig Rajeeva Wickramasinghe and Brig Rajitha Ampemohotti, the leaders of the Sri Lanka National Federation of Sports for the Disabled.
Carrying a leg disability from birth, PKD Dumeera Madhuranga Alwis competes in the 200m T44 and long jump F42/44 categories.
Madhuranga Alwis hopes to be able to compete against Pistorius, whom he regards as an icon of the Games.
"He is a great player and it is great if I can compete with him," says Alwis.
Attention needed
For the first time, Sri Lanka's Paralympic team includes a woman, Amara Indumathie Karunathilake.
She stressed the importance of society changing its attitudes towards the disabled in general.
"Even if we win an Olympic medal nobody would recognise it," says Indumathie, who was born with a disability affecting her left leg.
Though cricket is the most favoured sport, non-disabled sportsmen and women in all fields attract much better attention than disabled players in Sri Lanka.
"We don't get sponsors, nobody bothers about us. I'm sure we would perform much better if we were getting the same attention as able bodied players."
At the recently concluded London 2012 Olympics, the country's team went home empty handed. Sri Lanka has only ever won two Olympic silver medals. The Paralympians are hoping their Games will be different.