Sri Lanka minister gets bail in fishing settlement case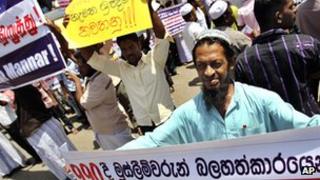 A court in northern Sri Lanka has granted bail to a cabinet minister accused of interfering in a dispute between Muslims and Catholics.
Rishad Bathiudeen denied threatening a magistrate for ruling in favour of the Catholics, who have been occupying a fishing settlement in Mannar.
The settlement was once owned by Muslims, but they were chased out by Tamil Tigers rebels in the civil war.
The minister faces a two-year prison sentence if found guilty.
Rishad Bathiudeen, the minister of industries and commerce, has also been charged with insulting and interrupting the magistrate during the legal sittings.
He was granted bail on Monday after 23 lawyers argued in his favour. The case has been adjourned until early next month.
The BBC's Charles Haviland in Colombo says the case is complicating efforts to restore normality after the war.
The Muslim families, who were expelled from the settlement in the north in 1990 in an act of ethnic cleansing, now want to reclaim their fishing rights, our correspondent says.
But the Roman Catholic Tamil fishing community, also displaced from the north and now occupying the settlement cannot find a place to go.
Civil rights activists alleged the minister, himself a northern Muslim, tried to sway the magistrate who issued a ruling in favour of the Catholics.
A demonstration in mid-July by 600 Muslims, including women and children, saw the court house stoned and more than a dozen Muslims arrested.
Our correspondent says little of what happened has been clearly verified.
Lawyers have gone on strike against the minister's alleged misdeeds.
A separate case has been filed accusing him of contempt of court, and an appeal hearing will take place next week.