South Korea opposition party chooses lawyer Moon Jae-in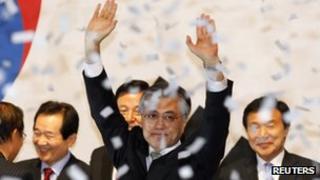 South Korea's liberal opposition party has chosen a former human rights lawyer as its candidate for December's presidential elections.
The Democratic United Party picked 59-year-old Moon Jae-in, who used to be former President Roh Moo-hyun's chief of staff, on Sunday.
Mr Moon won more than 50% of his party's regional primaries.
He will stand against the ruling Saenuri Party's Park Geun-hye, the daughter of a former president.
He said during a public appearance on Monday that co-operation between various sectors of society was needed to create more jobs, local media report.
Mr Moon had also said that he would engage with North Korea following years of tension under the current government, following the example set by the late Mr Roh who held talks with his North Korean counterpart.
The two Koreas are still technically at war despite their truce in 1953.
Ms Park, 60, was nominated by the Saenuri, also known as the New Frontier Party, in August.
Her father, President Park Chung-hee, was president from 1961 to 1979 before he was assassinated by his own spy chief.