Pakistan bomb attack 'kills four' in Orakzai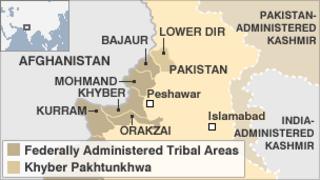 At least four people have been killed in a bomb blast in the tribal Orakzai region of north-west Pakistan.
A vehicle was hit by a remote-controlled bomb as it entered a market in Mishti Mela village.
Some reports say that the victims may have been from a tribe that was fighting against the Taliban. No group has said it carried out the attack.
Pakistan's military has carried out a series of offensives against Taliban militants in the area.
It is unclear exactly how the bomb was detonated. One report suggested that the bomb was strapped to a donkey when it was detonated. Another says the vehicle hit an improvised explosive device.
Those injured by the blast have been taken to hospitals in the region.
In July, at least eight people were killed when a passenger van hit a landmine on the border between Orakzai and Kohat district.
Many of Pakistan's tribal regions on the Afghan border are Taliban and al-Qaeda strongholds.