Pakistani intelligence publicly accused of kidnapping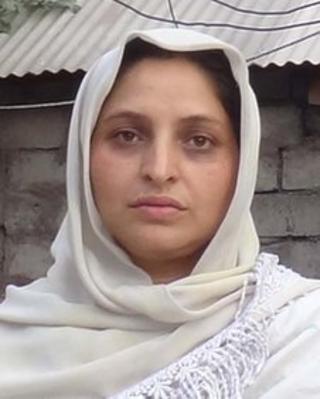 A woman in Pakistani-administered Kashmir has taken the unusual step of publicly accusing the intelligence services of kidnapping her husband.
Shahnaz Akhtar said her husband Qazi Khushal was arrested near an army post two weeks ago. The reasons for his apparent detention are unclear.
Correspondents say such detentions are not uncommon, but few affected by them have dared speak out so publicly.
An intelligence official said he was "not aware" of the case details.
Few such cases are reported to the police - or challenged in the courts - because people are fearful that they or their relatives may be harmed as a result.
Ms Akhtar, 35, is a school teacher who lives in a refugee camp near the regional capital Muzaffarabad.
She told the BBC that her husband disappeared the day after his arrest, when he was brought to a hospital in the city for a "heart condition".
Ms Akhtar said that her husband was returning to Muzaffarabad on his motorbike when he was arrested at an army checkpoint.
"A friend of my husband's rang me up to tell me my husband had been admitted to a hospital," Ms Akhtar told the BBC.
"I went to the hospital and walked right up to his bed but some men in plain clothes rushed towards us and stopped us from talking to each other. They pushed me out of the ward," she said.
"I went there again the next morning but his bed was empty. No-one has told me what happened to him or where he was taken."
Muzaffarabad Deputy Commissioner Ansar Yaqoob said that he was "not aware of the case" and could not comment.
The couple crossed into the Pakistani side of Kashmir from Indian-administered Kashmir in 1990, when the separatist insurgency there was at its height.
Mr Khushal has since given up the armed struggle. Pakistan has always denied allegations that its intelligence agencies supported the separatist, although corresponents say there is much evidence to the contrary.