Australia jails asylum boat organiser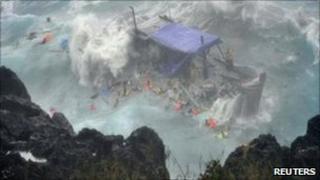 An Australian court has jailed an Iranian-Australian for 14 years for organising asylum boats, including one that sank off Christmas Island in 2010, killing dozens of people.
Ali Khorram Heydarkhani, 41, had admitted arranging five asylum boats from Indonesia to Australia between 2010 and 2011.
The court said he showed a reckless attitude for other people's lives.
He was arrested in Indonesia and extradited to Australia in 2011.
The court in Perth was told that the boats Heydarkhani organised were in poor condition and did not have enough safety equipment, local media reported.
Judge Stephen Scott said Heydarkhani showed an uncaring attitude towards other human beings and was primarily motivated by money, ABC News said.
Heydarkhani, who was born in Iran, was a former refugee who became an Australian citizen in 2004.
One of the asylum boats that he organised was a flimsy wooden boat that crashed into rocks near Christmas Island on 15 December 2010.
Coastguards rescued 42 survivors but up to 50 people were believed to have drowned.
The passengers were believed to have been Iranian, Iraqi and Kurdish asylum seekers making their way to Australia via Indonesia.
Christmas Island - which lies about 2,600km (1,600 miles) from Australia but only 300km south of Indonesia - is often targeted because it is the closest piece of Australian territory to Indonesia.
The Australian government has since reintroduced offshore processing in Nauru and Papua New Guinea, in a bid to deter people from making the dangerous journey by boat.