Roadside bomb kills Afghan wedding guests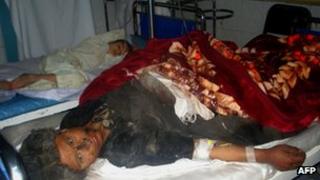 A roadside bomb in western Afghanistan has killed 17 people who were travelling in a wedding party.
The victims - most of them women and children - were in a minibus that formed part of a convoy of vehicles following the bride and groom.
The Afghan police in Farah province said the Taliban had carried out the attack.
The UN says more than one thousand Afghan civilians were killed in attacks in the first six months of this year.
The majority of those deaths were in roadside bombings. Analysts say that while the Taliban favours such attacks in their campaign against Nato forces, civilians using the same roads are frequently killed.
Three civilians were killed in Helmand province on Sunday by Nato forces carrying out an operation against insurgents who were laying roadside bombs. Nato has apologised for the incident.