Australia credit card theft: Police smash Romanian syndicate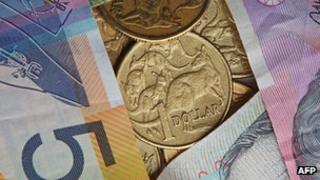 International police forces have broken up a Romanian syndicate allegedly behind what officials say is Australia's biggest credit card fraud.
Seven people in Romania were charged with data theft from 30,000 Australian credit cards, police in Australia say.
The computer systems of 100 small businesses in Australia were hacked, according to federal police.
They say that data was used to make fraudulent transactions around the world worth more than $30m (£18.8m).
Police forces began a joint international investigation last year after being alerted by a financial institution to suspicious transactions.
The syndicate allegedly copied data from the computer systems of small businesses in Australia, like petrol stations and grocery stores.
The data was used to create fake credit cards to make the fraudulent purchases worth A$30m ($31m, £19m) in Australia, Hong Kong, Europe and the US, The Australian federal police said in a statement.
"This is the largest data breach investigation ever undertaken by Australian law enforcement," said Cdr Glen McEwen, federal police manager for cyber crime operations.
"Without the co-operation of 13 other countries, along with Australia's banking and finance sector, we would not have been able to track these illegal transactions to the criminal network in Romania."