Profile: South Korean President Park Geun-hye
1 November 2013

From the section

Asia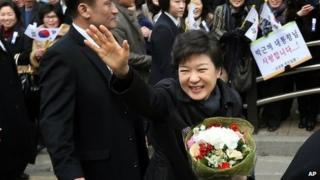 Park Geun-hye is the first female leader of a country that has the highest level of gender inequality in the developed world.
The daughter of a former president, she was sworn in on 25 February 2013 - days after North Korea's third nuclear test.
In her inauguration speech, she promised to prioritise both national security and economic revitalisation.
To North Korea, she offered a step-by-step trust-building process, but vowed she would not tolerate any action that threatened national security.
Months of tension with the communist North followed - including the first closure of the inter-Korean Kaesong industrial zone.
By the time Ms Park marked six months in power, relations with Pyongyang had stabilised somewhat, with talk of a possible resumption of family reunions and inter-Korean tours.
But speaking in early October to mark Armed Forces Day, the president described the situation on the Korean Peninsula as "very grave".
Father's shadow
Ms Park, 61, is no stranger to South Korea's presidential house. She is the daughter of former President Park Chung-hee, who ruled South Korea for almost two decades.
At the age of just 22, she was thrust into the political limelight, becoming South Korea's first lady when her mother was shot dead in 1974 - hit by a North Korean assassin's bullet that was intended for her husband.
For five years, Ms Park was charged with receiving the spouses of foreign heads of state at the Blue House, South Korea's presidential residence.
Her father, who seized power in a military coup in 1961, ruled until he was assassinated by his spy chief in 1979.
Some say the association with her father - and her experiences as first lady - helped her overcome some deeply-held prejudices among male voters.
But while Mr Park was credited with boosting South Korea's economy, he was also accused of ruthlessly crushing dissent and delaying democratic development.
Amid debate over his legacy ahead of her presidential run, Ms Park in September 2012 issued a public apology for human rights abuses committed under her father.
However, she also described his 1961 coup as necessary, which alienated some younger voters who were wary of Ms Park's unwillingness to fully renounce her father.
Ms Park is not married - something that has exposed her to comment in South Korea's conservative society - and is seen as a private individual.
She holds an engineering degree from Sogang University in Seoul and was first elected to South Korea's National Assembly in 1998.
She sought the presidency in 2007, but her Saenuri, or New Frontier Party, instead nominated Lee Myung-bak, who went on to win.
'Political neutrality'
As part of her presidential campaign, Ms Park pledged to prioritise "national reconciliation", and improve "economic democracy" and social welfare.
She also promised greater engagement with North Korea than under her predecessor - but that policy had to be suspended following Pyongyang's third nuclear test on 12 February 2013.
In the weeks after the test, as the UN expanded sanctions on North Korea, and Seoul and Washington held joint military exercises, Pyongyang upped its rhetoric significantly.
It threatened attacks on US military bases and on targets in South Korea and Japan, cut off communication hotlines with the South and in April pulled all its worked out of the joint Kaesong industrial zone.
Tensions remained high for several months but then eased, allowing the Kaesong zone to reopen in September.
Since then the two sides have taken small steps towards engagement - such as planning to restart reunions of families separated by the division of the Korean peninsula - but the first such meeting was cancelled by the North.
Ms Park said South Korea had to build a "strong deterrent" against the North.
"Only when watertight security that does not permit provocations is in place will we be able to lead the North to take the path of genuine changes while safeguarding peace," she said in early October.
Allegations that some staff at South Korea's spy agency interfered in Ms Park's favour in last year's presidential election by posting online comments criticising her election rival have also dominated her first year in office.
Former National Intelligence Service chief Won Sei-hoon is awaiting trial on multiple charges and Ms Park has promised a transparent investigation.
"Even if I myself did nothing that may arouse suspicion, suspicions have been raised that national agencies might have interfered with the election," she said.
"From now on, the government will make sure that not only government agencies ... but also individual public employees won't breach political neutrality even inadvertently."