Burma lifts 25-year-old ban on public gatherings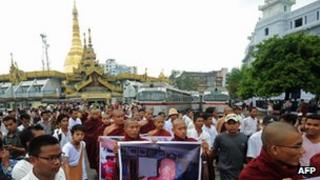 The reformist government of Burma has abolished a 25-year-old ban on public gatherings of more than five people.
The order dates from 1988, when a military government took power after crushing pro-democracy protests.
Correspondents say an end to the ban has been demanded by the international community and has been widely flouted at protests in recent years.
The state-run Myanma Ahlin newspaper said the law was being axed because it was not in line with the constitution.
It quoted officials as saying that basic rights, such as freedom of expression, were now constitutionally guaranteed.
The public-gatherings ban was commonly used in the years immediately after 1988 as a tool to crush dissent against successive military regimes.
But it was eased following the end of military rule in November 2010 - and when the elected government of President Thein Sein took office the following year.
His administration has continued a process of political liberalisation, including the revocation of strict censorship.
Monks march
Buddhist monks last month held rallies across Burma in defiance of the ban on public gatherings to demand further apologies from the authorities over a crackdown in November on a protest at a copper mine.
Large crowds came out to support the monks as they marched in Rangoon, Mandalay and other major cities.
Soe Win Than of the BBC Burmese service says that the abolition of the ban means that few draconian anti-democracy measures remain in place since the government began its process of reforms.
In December, it announced that privately-owned newspapers would be allowed to operate from April 2013 for the first time in almost 50 years.
It informed journalists in August that they would no longer have to submit their work to state censors before publication as they had been doing for about half a century.
Our correspondent says that one of the few unduly repressive measures that continues to remain in place is an electronics law which restricts email access and which was widely used by the military government to silence dissenting voices.
Under the law, possession of an email account - or even a critical article within a computer - can result in a prison sentence, although it too is widely flouted and is likely to be lifted once agreement is made in parliament.
Peace marchers calling for a cessation of fighting in the country's north have also been threatened with legal action.