Regional media: Anger over North Korea test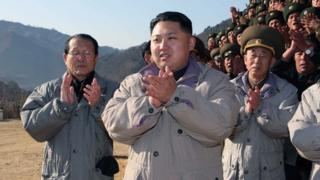 North Korea's third nuclear test has sparked angry responses from experts and the media in regional capitals.
Newspapers are particularly scathing in their comments in Japan, saying Pyongyang's latest provocation is "unforgivable" and poses a serious threat to peace on the Korean Peninsula.
Chinese experts and newspapers show frustration over Pyongyang's actions but believe Beijing did everything possible to stop the nuclear test.
South Korean press sees the nuclear test as Kim Jong-un's attempt to make his grip on power stronger, and experts in Russia say the test has caused a "political earthquake".
Japan
Commentary in Tokyo's Sankei Shimbun: "This is a serious challenge to peace and security in the world and is simply unforgivable. Besides additional sanctions by the UN Security Council, the international community should strengthen country-specific sanctions and stop the North's rogue reckless actions by any means."
Editorial in Asahi Shimbun: "How long will such foolish behaviour continue?.. We strongly condemn this reckless action that disturbs the peace and stability of the region… If food and energy from China is stopped, this will be greater pressure for North Korea."
Editorial in Yomiuri Shimbun: "North Korea's nuclear weapons development has entered a more dangerous phase. Given the worsening security environment, Japan should coordinate with the US and other countries to strengthen deterrence against North Korea."
Editorial in Mainichi Shimbun: "The threat of North Korea is increasing with its third nuclear test. The Chinese Foreign Ministry reportedly made summoned North Korea's ambassador to Beijing several times to convey opposition to the nuclear test, but this is certainly not enough... Even the Obama administration's policy on North Korea has appeared tepid."
China
Editorial in Beijing-backed Hong Kong-based daily Wen Wei Po: "In fact, China has done its utmost, but it can neither stop North Korea from conducting a nuclear test, nor prevent the international community's sanctions against North Korea. To fundamentally resolve the North Korean nuclear issue, there is still a need to resume the six-party talks and to encourage all parties to establish mutual trust to resolve the problem of denuclearisation on the peninsula…"
Commentary by Xinhua's former Pyongyang correspondent Gao Haorong: "North Korea's action in disregard of widespread opposition from the international community is bound to make the situation on the peninsula worsen further, which is unwise. North Korea ought to keep its pledge on denuclearisation and all parties should keep calm and exercise restraint."
Commentary in Xinhua: "Beijing, losing patience with its recalcitrant neighbour Pyongyang's patron, might decide it is wasting its time pandering to the regime and cut aid… North Korea's third nuclear test is expected to push Beijing into getting tougher with its wayward neighbour."
Commentary in Beijing-backed Hong Kong's daily Ta Kung Pao: "China-North Korea friendship is a frequently mentioned thing, but this cannot become China's burden. North Korea is very important to China, and this cannot be doubted. But what also cannot be doubted is that the importance of North Korea cannot impact on China's basic diplomatic principles and vital national interests, even in spite of its own geopolitical security…"
South Korea
An editorial in Hankyoreh termed the test an "absurd" action by North Korea: "Despite the international community's repeated warnings, North Korea conducted a third nuclear test yesterday following 2006 and 2009 in what amounts to a reckless provocation threatening peace in Northeast Asia and the world. The fledgling Kim Jong-un regime must pay a hefty price for detonating another nuclear device."
Editorial in Dong-A Ilbo: "North Korean leader Kim Jong-un, who declared his country a nuclear state by revising the North's constitution in April last year, soon after his inauguration, pushed ahead with Pyongyang's third nuclear test on Tuesday, as if seeking to confirm his declaration… The North's nuclear threat started 20 years ago and has since materialised into a real danger."
Editorial in Yonhap news agency: "It has become virtually impossible to expect the North to give up its nuclear ambitions. Last year, the country declared itself a nuclear state and said it will never give up its nuclear programme. The North's regime proved its words by going ahead with Tuesday's nuclear test… The international community has to act more resolutely and strongly against Pyongyang's provocation."
Russia
Article in business daily Kommersant: "Pyongyang's activity has caused a 'political earthquake' in the world. The world community has shown unprecedented unanimity in condemning the nuclear blast... The DPRK's neighbours - South Korea and Japan - will have to take additional measures to ensure their own security, threatens to become one of the consequences of the Korean crisis."
Article in pro-government daily Zvestiya: "This confrontation has already resulted in the build-up of the US military grouping in the western part of the Pacific Ocean. The DPRK's new nuclear test gives a well-founded reason for Washington to further boost its presence in the region. As for Russia, according to military expert Dmitriy Litovkin, it has S-400 missile systems Triumf in the Far East and the Kuril Islands and a Voronezh-DM radar station near Irkutsk. These means, according to the Russian military, are quite enough to defend the Russian territory in case of need."
Article in Rossiyskaya Gazeta: "China has already hinted that it does not like the DPRK's nuclear ambitions and the latter can be severely punished. The only thing left to do now is to wait for Beijing's steps. Apparently, Moscow is also obviously not happy about North Korea's behaviour. "
BBC Monitoring reports and analyses news from TV, radio, web and print media around the world. For more reports from BBC Monitoring, click here. You can follow BBC Monitoring on Twitter and Facebook.