A suitably South Asian romance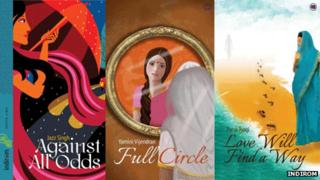 A web publishing venture being launched to coincide with Valentine's Day is showcasing new romantic fiction from South Asia, but with the mission of reflecting the modern realities of love in the subcontinent.
The new e-publishing concern, Indirom, has been set up by two women, one from Pakistan and the other from India. They claim that their stories will "provide romance for the south Asian soul".
But with the Mills and Boons romantic fiction franchise thriving in India, and with English-language book publishing (by such big names as Penguin India and Random House among others) for the Indian market expanding, what was the need for a new publishing initiative?
The co-founders saw a niche: contemporary love stories to be read digitally. Naheed Hassan, a Pakistani economist now living in Boston, and Shanti Dominic, an Indian software engineer based in Johannesburg, are the co-founders of Indirom and they both admit to having been avid readers of romantic fiction in their youth.
But, says Dominic, something was always missing: "As a teenager I had also read Mills and Boons, and I remember thinking: 'I wish there was a book which had an Indian hero in it, and an Indian heroine, maybe someone like me.'"
And Hassan's experience was similar: "At some point I got really tired of reading about blond, blue-eyed women who were being swept off their feet by Italian millionaires, because I wasn't blond and blue-eyed, and there was no Italian millionaire anywhere close to me.
"So that was where this was born out of... this need to have a role model and someone falling in love who looked like me and had my options. And Italian millionaires weren't one of them."
No damsels in distress
But how exactly is "romance for the South Asian soul" different from romance generally?
Author and editor Mimi Jain, who writes as MM George, says that the context is definitely unique.
"Our culture is different," she explains. "Our values are different, our sexuality is different. Our families are important to us even when we are, literally, in the first flushes of love.
"This is not represented in the kind of romances that are published internationally today. The South Asian woman, much as she would like to espouse Western ideas of liberal individualism, lives in a very different world."
Family and society feature prominently in the lives of the characters in these stories but, says Naheed Hasan, there is a definite effort to make sure the female characters are not helpless maidens or damsels in distress.
"The one guideline we do give our writers is that our women need to be modern women... women who demand respect, are getting on, they're not waiting for somebody to sweep them off their feet."
And somewhat unusually in the South Asian context is that a number of Indirom's romances see divorcees and widowers getting a second chance at love.
Author Zeenat Mahal's The Contract is an example of this. In the story, a divorced school teacher with a young son living in Lahore marries a widower who is the father of one of her students.
Neither one is keen on the marriage but it's a practical decision, a contract, and of course they do eventually fall in love.
Love after marriage
So is romance after marriage typically South Asian? Zeenat Mahal says it is a fairly archetypal theme which "resonates with all kinds of audiences whether in South Asia or the West".
But she points out that for South Asians, romance after marriage is "even more relevant because that's what happens to most women - or at least that's what they like to pretend happens to them, that they fall in love with their husbands!"
Indirom's founders say that they do very much want to challenge stereotypes.
Hassan says that in these stories, "the guy next door can be as hot as... an exotic millionaire coming from somewhere else. I absolutely love a scene from one of our stories in which the hero is shopping. He's slightly older, he's got a receding hairline, and he's buying brinjals [aubergines] at a vegetable cart! But he's the hero of the book, and he's actually really heroic because he's kind and decent and gentle."
And apparently romance is not just the domain of women: the publisher has four male writers on its list. One of them is Mamun Adil whose novella Seasons of Silence is about how a man's own upbringing and emotional issues get in the way of happiness in his marriage.
Mamun Adil also says that it's not true that men aren't readers of romance fiction. "Bollywood films, which are so successful commercially, are mainly love stories and men like those, they like love stories.
"They might not admit it but they do read these stories - if they talk about them, they'll say they know about them because they saw their wife or their sister reading the book!"
Indirom has its sights on Bollywood too. Shanti Dominic says she hopes at some point Bollywood will be interested in using their stories.
And she hopes that the business will have an impact not just on the film industry but also on the way people in the region think about each other.
"I really believe Indirom will bring India and Pakistan together, with love!" she says.