Indonesian army says eight soldiers killed in Papua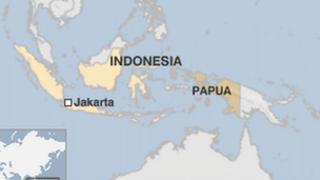 Eight soldiers have been shot dead in two separate attacks by armed men in Indonesia's Papua province, the army has said.
A spokesman told the BBC that one soldier was killed when a military post in mountainous Puncak Jaya district was attacked - two attackers also died.
Seven soldiers died when they were ambushed not far away shortly after, said Jansen Simanjuntak.
Insurgents calling for independence have been active in Papua for decades.
It is one of the country's richest provinces in terms of natural resources - but also one of the least developed.
Thursday's attacks were the biggest to hit the military this year.
Mr Simanjuntak said that in the first incident, in the village of Tingginambut, one soldier died instantly when he was shot in the chest and that another was injured.
In the second, nine soldiers who were on patrol were ambushed by unidentified assailants.
Mr Simanjuntak said there were no plans yet to send additional troops to Papua, but that additional police had been deployed to find those responsible.
Restive province
The Indonesian government "strongly condemned the brutal incident", a security minister, Djoko Suyanto, told the AFP news agency.
"Based on our intelligence, there are several [separatist] groups in the area," Mr Suyanto told reporters, saying that he suspected the separatist Free Papua Movement of the attacks.
Papua became Indonesia's easternmost province in a controversial election in 1969 that many Papuans say was a sham, says the BBC's Karishma Vaswani in Jakarta.
The poorly armed Free Papua Movement has battled for independence ever since.
The Indonesian government says it is too dangerous for foreign journalists to travel to the restive province, although human rights groups say that it is Jakarta's way of keeping journalists out, says our correspondent.