'Face-lift embezzler' arrested in South Korea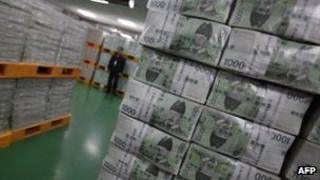 South Korean police have arrested a man who embezzled millions from his employer and underwent cosmetic surgery to avoid arrest, local reports say.
The man, in his 30s, is accused of siphoning 4.7bn won (£2.8m, $4.3m) and spending the money on hostess bars and a Mercedes Benz sedan.
Police say the man, surnamed Yoon, had a nose job and a face lift.
He was arrested outside Seoul after police received a tip-off.
Mr Yoon had worked at the finance department of a semi-conductor firm and made a series of company fund transfers to his personal bank accounts, police say.
He then pretended to have a family emergency and left the company in January, according to reports.
After withdrawing a lot of cash, he went on a 10-day spending spree in South Korea's Gangnam district, says the Agence-France Presse (AFP) news agency.
A police spokeswoman told AFP that Mr Yoon was "a totally different person" when he was arrested.
"He'd had a nose and eye job, and his face had changed drastically," the spokeswoman added.
They were able to track him down after two alleged accomplices were arrested, local reports said.