Hong Kong court hears Filipino maid residency case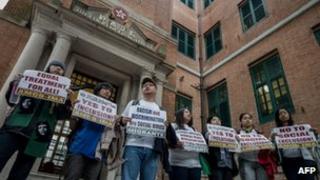 Hong Kong's highest court is hearing an appeal in a case that will decide whether maids will be eligible to apply for permanent residency.
The Court of Final Appeal will decide on the case of Filipino maid Evangeline Banao Vallejos, who is appealing against an earlier decision.
In 2011, a high court ruled she had the right to request residency - something previously unavailable to maids.
But the government then won an appeal overturning the ruling.
Hong Kong has about 300,000 domestic workers, mainly from the Philippines and Indonesia.
While most foreign residents can apply for permanent residency after seven years, maids are not eligible.
This means that if they leave an employer, they have only two weeks to find a new job or else they must return home.
The court hearing, which will decide whether Hong Kong's immigration law is consistent with its Basic Law, is expected to last three days.
Ms Vallejos, who filed the case, has lived in Hong Kong since 1986 and has worked for the same family.
A high court ruling had said that excluding maids from a rule allowing foreigners to settle in the city after seven years was unconstitutional.
But this was overturned on appeal from the Hong Kong government, which argued that it had discretion to decide eligibility and that restrictions on maids were not discriminatory.
Government estimates show that 125,000 maids would be eligible to apply for abode. If each had a spouse and two children, that number of potential new residents could reach 500,000.
But groups campaigning for domestic workers say the government is merely scare-mongering.